Here are 20 very well disegned UI designed apps and icons for iOS.
Weightbot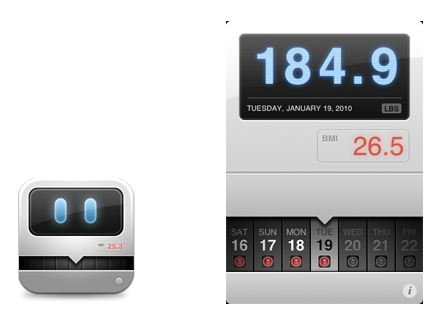 Weightbot is an great app in the aspec of design and function. The collabartion of animations, sounds and design makes it a clear fun to use. Perfectly coded and designed it works well on all iOS devices.
PasteBot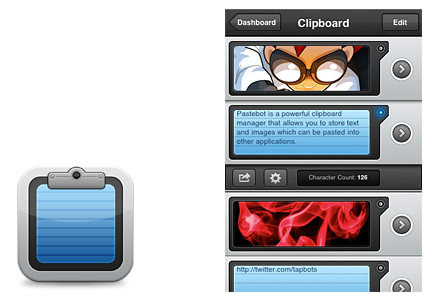 Pastebot, Weightbot, Concertbot and Calcbot are all designed and coded by tapbots. Tapbots Use the right balace of code, design, sounds, and animations and thats why all there apps are great! There icons reflect there apps' UI so users know what app is made by these developers.
ConvertBot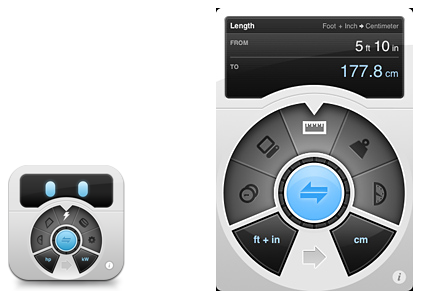 One of the nicest Convert apps on the appstore market. Packed full of features and an intuitive wheel and like the above with animations, sounds and clean UI.
Calcbot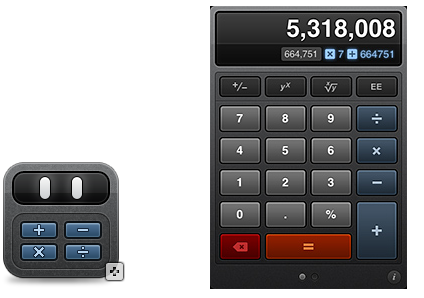 Calcbot is a simple, yet intelligent calculator for your iPhone, iPod touch and iPad (Universal). Never lose your place in a calculation again with the live as-you-type expression view.
Awesome Note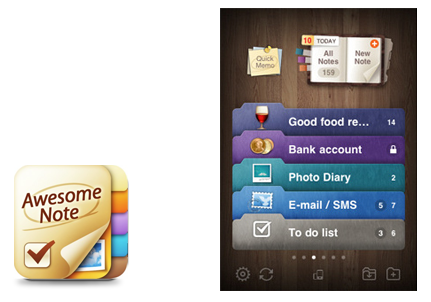 Awesome Note is an innovative note taking application and to-do manager that allows you to combine notes with to-dos flexibility. It also enables you to customize its look with themes the way you want it to be displayed with different folder icons, colors, fonts and paper backgrounds.
2Do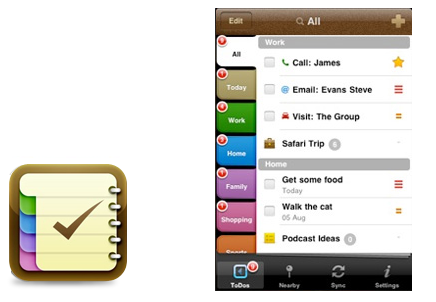 The world's most elegant and hands-on ToDo app was designed to work around your fingers. 2Do surrounds you with your projects and actions, grouped the way you like them, sorted the way you need them and reminding you at the time you want them done.
labyrinth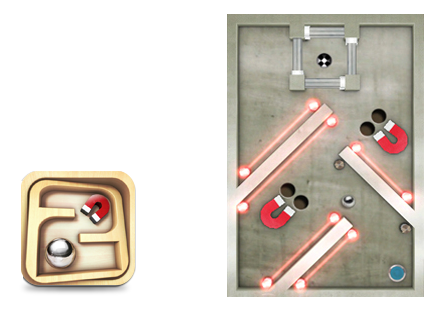 Labyrinth is back, and is now packed with tons and tons of stuff. Labyrinth was one of the original games for the iPhone pre App Store, and it's true it has been getting stale. Luckily the creative minds at Illusion Labs have decided to make a sequel. It's UI and features make it an all time app.
abca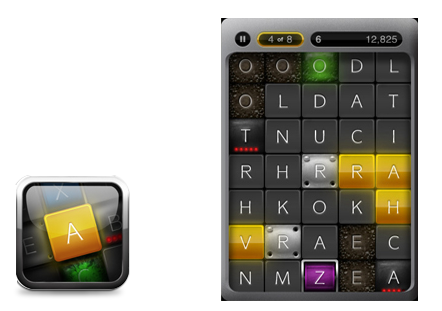 Abca is one of my personal favorites for a couple of reasons. The main reason is for its UI and easy of use. Anyone can play this game! The use of animations, sounds and glossy UI makes this gameplay an enjoyable one.
cookmate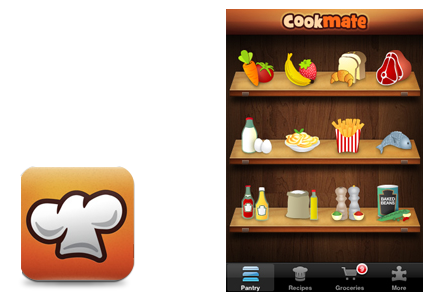 Cookmate works well because of its UI and resources. All it needs now is add recipes and iPad version. Also an video mode of how to make it would be Great! Cookmate could be an a-list app for cooking.
Voices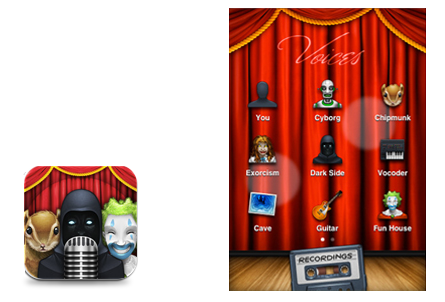 Voices is one of the best voice manipulate apps on the market today. It uses the iPhone UX which many are very familiar with to deliver an great UX.
Beats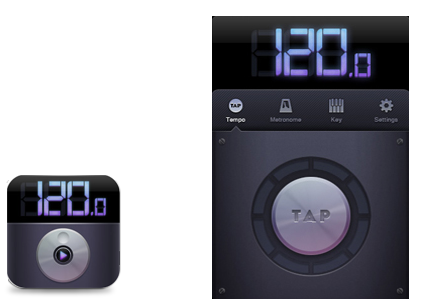 Clean and easy to use. The beats app has clever but simple ways of making beats. The use of of tabs and an piano in this app makes it one of the many music must have apps.
Camera +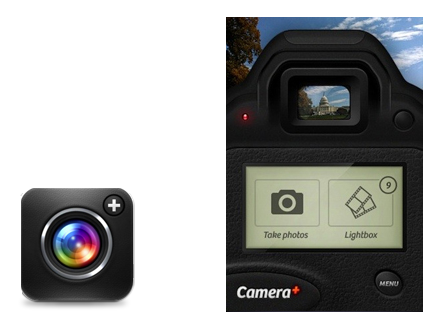 Unfortunately this app has been pulled from the app store. The best app for camera use and creative UI/UX has been pulled for an stupid reason. Other wise this app is an clear winner to the world of camera related apps.
Classics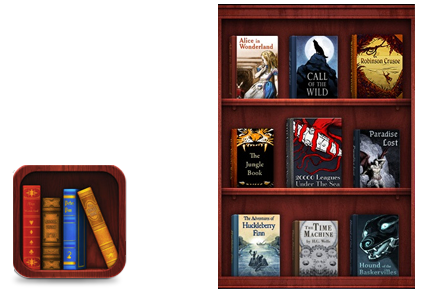 Before the iBookstore and Kindle store, Classic was one of the most unique book apps. I loved the animation on turing the pages. Who knew turning pages could be so fun.
Groups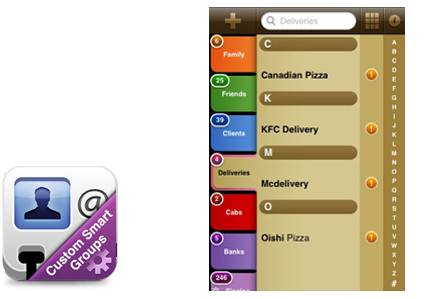 Very similar to 2Do list UI this app is very useful. If you want an clever but cleaned up contact list this app is the way to go.
Tumblr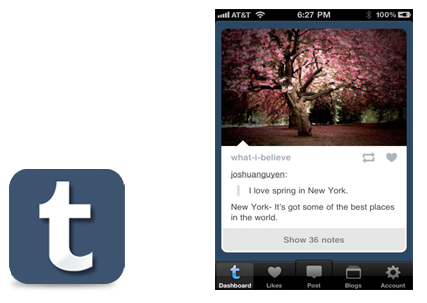 Tumblr is home to the most creative people in the world. Post anything: Share photos, video, audio, quotes, links, and text.
Twitter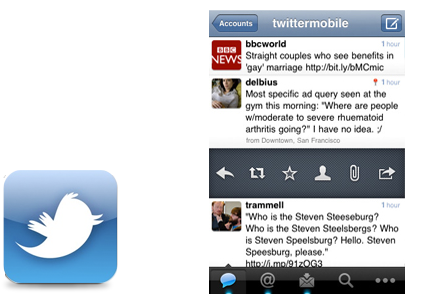 This app used to be tweetie. The slick reload animation, sound and UI makes this one of the most intuitive UX. The UI gets better as you use app more and more.
Facebook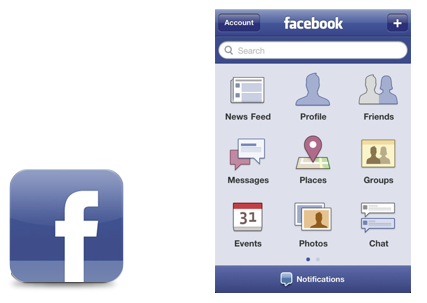 Facebooks' UX work well because it reflect the iOS. The UI is clean and simple. The app doesn't support all videos on this app. Only youtube.
On This Day
This app has an strong bold UI with wood background and simple to use navigation this app is an simple must have.
Vision Test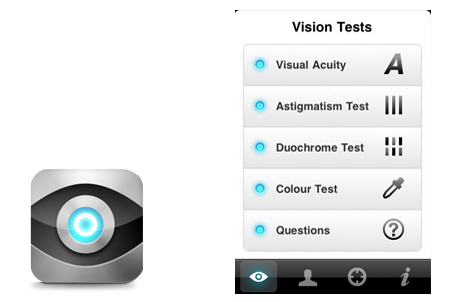 Clean cut UI presents information like no other eye test app. With simple tools and navigations its quite a unique app.
Snowtape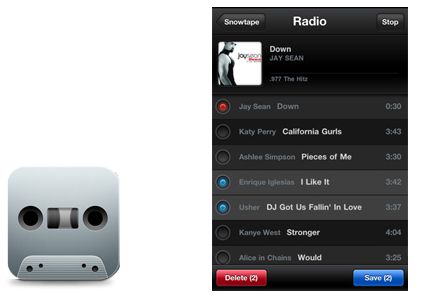 This app has the nicest design UI for an radio app. Its clean, consistent an all round perfect. The icon is just the same. Filled with features this app is an must have.
---
Something's wrong with this post?
Missing Images? Broken links?
Help Us. Report it!
---
---

---
ShockBlast - inspire yourself.
---
---